Hi Everyone! I hope you all had a wonderful Fourth of July weekend! It was seriously the perfect weather and I could not feel more refreshed and ready to take on the many projects we have this week. We had SO.MUCH.FUN on Friday at our cookout. We started the day out on a friend of ours boat and I got to take Ada while Sam stayed back with the Henry Doodle and she did really great. We had decided last minute to host it at The Bradford seeing how we have no grass in our yards at the moment - all that to change this weekend! And it was really great. The garden area was nice and shaded, the kids played in the slip and slide and kiddie pool and we even all joined in for a little water balloon war. It was nice, relaxing, and we had so much fun that we didn't even have time to take pictures, which really is the mark of a great time. Saturday was a lazy day and we decided to take an impromptu day trip to the beach. So Sunday, we packed up and headed down to Carolina Beach. It was perfect - cloudy, breezy, and not too very crowded. It was wonderful. Here are really the only two pictures we took:
This was right after she started getting a little motion sick - she was a trooper though!
Little Sand Boogers
On to the actual post! I was getting lost in my great weekend that I forgot what I was suppose to be writing about :)
Color- color scares me just a little when it comes to decoration. I love neutral, I love transformative and for our venue- that is the name of the game - Neutral and Transformative. We settled on three basic colors for the main areas: Silvermist, Gateway Gray, and Wool Skein. Wool skein was our primer color as well - so all the ceilings are in Wool Skein. We have bought probably 40+ gallons of Wool Skein. I am tired of Wool Skein. Love the color, but even me - the queen of neutral - was ready for some actual color. Shocking, I know! So, when we had a chance to actually look at the office, Courtney blurted out she wanted it Mint. Mint? Really Court, out of all the colors - Mint?? Well, I got to thinking and she was right. We need cheery, fun, and bright. It's our office - a place we will be spending a lot of time - so we decide on mint - the color of my phone case actually. We also decided to do a little pop of coral in the bathroom. I was catching on to this coral and mint idea. We had done weddings with this color scheme, but I hadn't thought to translate it into a room. Here are some inspirations that convinced me this was the way to go!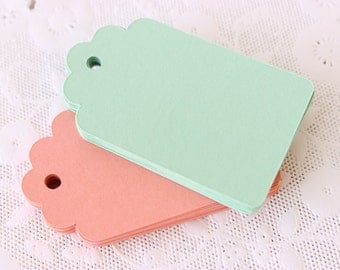 Our coral is a little brighter, but you can't deny that this is a great combo together!
So this is actually mint and tangerine- but replace that with coral and this is the exact feel I want. I don't want our office too "shabby chic" or too "modern." I think this blends the two together quite well!
How relaxing does this look? Sometimes you just need relaxing in this industry!
As with the majority of the items in the house/office - we have to use what we have to make it what we want. So, our coffee table is going to get a make-over - much like this one. A fun fabric, cute buttons, and we have an ottoman that I will be putting my tired feet up on!
Do you have any great office ideas? We would love to hear them!