Hello all! Courtney here - I know, long time - no type to! I am finally getting around to thinking about my room in the Bradford. I have been assigned the twin bed room - it has two twins and two trundles - Perfect for a Bridesmaids sleep over! Keeping that in mind, I definitely want it to have girly undertones, but not be overt about it. I am keeping the wall color neutral with a richer tan color and keeping the bedding light - a dove grey with fun white pom-poms. I want to ground the beds by painting whatever I get black - that way they don't have to match perfectly but can just be similar. I want to add a little touch of glitz with a few splashes of mercury glass - and a topiary may be in order!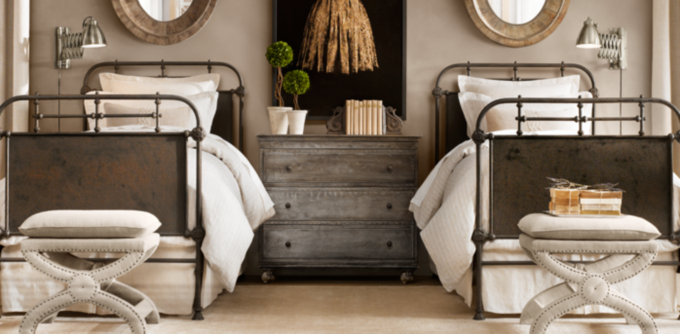 Love this feel - would love to have the headboards look like this if possible. I also really like the idea of the footstools - it would be a place for girls to sit, but on their shoes - etc.
The Bedding!
I added this picture for the curtains - I like the horizontal stripe in the color of my room - it will make for a cohesive look while adding interest!
I have a Honey colored antique desk I want to use as a vanity for the space - it was really my inspiration piece! It has a rich color and black hardware that I think will really pop in that room!